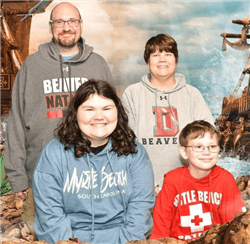 Greetings Sisters and Brothers of Bethany UMC;
I pray that this letter finds you well. Please know that you all are in my prayers – especially during this unprecedented season of the corona virus. Please stay healthy as you connect with each other electronically or by telephone.
As United Methodists, you and I are part of the appointment process. That means that from time to time, the pastor receives a change of congregation, and the congregation receives a change of pastor. You experienced that when Rev. Twigg retired and Rev. Fehl arrived. You experienced that again when Rev. Fehl was appointed to a different congregation and I came. We will be experiencing that together once again.
Many of you were not at the recent worship service, when I made the announcement that as of July 1, 2020, I will be appointed to Fallowfield UMC which is located near Conneaut, PA and is on the Franklin District.
Delores and I am so grateful to God, for the life and ministry we shared together. You have in so many ways showed expressions of being the hands and feet of Christ, and for that our livese has indeed been blessed. I will continue to lift each of you up in prayers as Bethany's journey continues.
The SPRC and DS have met together, and the Bishop has appointed Rev. Corben Russell as your next pastor, starting July 1, 2020. Rev. Russell, and his family are excited about the ministries going on here at the church, and looking forward to meeting you personally.
Please pray for your new pastor The Rev, Corben Russell, his wife, Brenda, son Isaac, and daughter Pearl, during this time of transition, these are exciting times in the life and ministry of Bethany UMC.
Grace and Peace
Rev. Les Hutchins
Rev. Corben Russell is from Northumberland, PA where he graduated from Shikellamy High School in 1993. He attended Clarion University of PA, transferred to Geneva College in Beaver Falls, PA and graduated with a Bachelor of Arts degree in Christian ministries with a concentration in pre-seminary in 2005. He graduated in 2008 with a Masters of Divinity degree from Asbury Theological Seminary. He believes strongly in life-long learning and participates in continuing education every year.
His first appointment as a student local pastor was with Bridgewater UMC and Zion Rochester UMC in Butler District in August of 2006. In 2008, he was interim pastor at the Timblin Charge (New Salem, Porter, and Timblin UMCs). He has served at Fairall Charge (Claughton Chapel, Fairall, and Mt Morris UMCs). He served at New Covenant Charge (Callensburg, Parker, Perryville, & West Freedom UMCs). He served at Mt Zion UMC of DuBois, Pa in the Indiana District from 2016 to present.
Corben has served throughout the conference and district in a variety of capacities. He is the founding dean of Lego Camp for Wesley Woods which began in 2019. He is scheduled to dean two Lego Camps for Wesley Woods 2020.
Corben has an amazing spouse, Brenda, and is a father to two wonderful children: Isaac, age 8 in third grade, and Pearl, age 15 in ninth grade. He is a volunteer fireman, a former 4-H sharpshooter volunteer, a former NRA certified rifle instructor, and a former cub scout leader for Boy Scouts of America. His hobbies include: having fun with his children, playing guitar, and wood working.
Corben's personal mission statement is "changing the world for Christ one person at a time". His vision is "loving God and neighbor so extravagantly the lines blur where the church ends and the community begins". He believes that the church, which is a people not a building, need to be deeply committed to truly living out the greatest commandment from Matthew 22:37-39 of loving God and neighbor so differently the rest of the world will have no choice but to take notice. He believes the church will set the model of excellence in our community and strives to better live out the great commission, of "making disciples of all nations, baptizing them in the name of the Father and of the Son and of the Holy Spirit, and teaching them to obey everything I have commanded you." (Matthew 28:19-20; NIV, 2011)