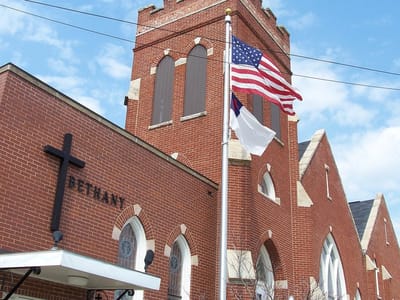 Welcome!
Bethany is a warm, family friendly, traditional congregation in the city of Latrobe, PA. Everyone is welcome to join in worship each weekend on Facebook Live as we celebrate the grace of Jesus.
During the Covid-19 pandemic we will be worshipping together through our Facebook Live services on Sundays at 10:30am.
Arriving
The church building will be closed until further notice due to the pandemic. Upon reopening of the church, parking is available in the lot at the rear of the building as well as on street parking is available. The entrance to the sanctuary is at the steps at the front of the building as well as the white double doors at the rear off of the parking lot. Members will be notified when the church will be reopening.
Children
When reopened, a nursery is provided for the 10:30 AM service for children under the age of 4. Junior Church, a time for young people to explore the bible, is available during the 10:30 service, immediately following the children's message in worship.
Worship
All of our services are come as you are. You will find a wide variety of dress, from jeans and a t-shirt to shirt and tie. Feel free to join us in worship as you feel comfortable once it is safe to worship together again.