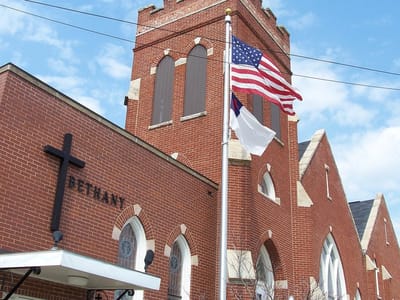 Welcome!
Bethany is a warm, family friendly, traditional congregation in the city of Latrobe, PA. Everyone is welcome to join in worship each weekend as we celebrate the grace of Jesus.
Our worship services are held Saturday evening at 6:30 PM and Sunday morning at 8:15 AM and 10:30 AM. We also broadcast our Sunday 10:30 AM service live on our Facebook page, which can be found here:
Bethany Latrobe Facebook Page
Arriving
Parking is available in the lot at the rear of the building as well as on street parking available on the neighborhood streets. Entrances to the sanctuary are at the steps at the front of the building as well as the white double doors in the parking lot.
Worship
All of our services are come as you are. You will find a wide variety of dress, from jeans and a t-shirt to shirt and tie. Feel free to join us in worship as you feel comfortable.
Health and Safety
We are currently encouraging attendees who have not been vaccinated for COVID-19 to continue wearing a mask while in the building. Those who have been vaccinated are free to wear a mask at their discretion, in addition to practicing social distancing. Masks are available at the entrances to the sanctuary. Hand sanitizer is readily available throughout the building.